Power BI, Tableau / 0 comments
Power BI Trumps Tableau
… Or Does It?
By Dwight Taylor
VIZYUL LLC Founder and CEO
As a kid, we used to play a game on the playground called King of the Hill. We played it in the winter when the playground was plowed leaving large snowbanks at its perimeter. Someone would race to the top of the snowbank and claim to be king, willing to take on all who dared to take him down. In our bulky winter coats and gloves, we would attempt to push, pull, drag and tackle the king off the summit so we could lay claim to the throne.
The game may no longer be a mainstay of the playground, but it's played frequently in corporate America where one company dominates a market until another comes along and attempts to take it down.
Tableau is finding itself in that position. The data visualization platform has been the industry's gold standard for nearly two decades. For the sixth straight year, Tableau is classified as a leader in the Gartner Magic Quadrant for Analytics and Business Intelligence Platforms.
Similarly, Gartner recognizes Tableau's closest competitor — Microsoft's Power BI — in the leadership quadrant (there are only three with Qlik being the third). According to the most recent Magic Quadrant study, Tableau and Power BI are equally on par in their ability to execute. However, in 2016, Power BI leaped past Tableau in the completeness of its vision.
I am a firm believer that Tableau is a much better platform than Power BI, but I also believe Tableau has to keep a close eye on its competitors or risk having Power BI become King of the Hill.
The vast majority of data analysts I engage firmly believe that Tableau is the better platform. It's not even a contest in their eyes. I find it almost surreal that nobody believes Power BI is a threat to Tableau. I liken it to the 2016 presidential election where all the pundits and pollsters were handing the White House keys to Hillary Clinton. As we now know, the experts were wrong.
How did we get here?
The Rise of Tableau
In 2003, a small unknown company from the San Francisco Bay Area came into the data visualization market with a tool that could help the most non-technical person see and understand data with ease. At the time Tableau debuted, the data market was owned by goliaths like IBM, Microsoft, Oracle, SAP and others.
Tableau's objective was to disrupt Business Intelligence incumbents with technology that made the democratization of data and self-service analytics possible without dependence on IT.
Tableau had a "land-and-expand" sales strategy. It targeted selling its data analysis visualization tool to the person at a company who had the biggest pain point. It often was a data analyst who had to synthesize files and data from a myriad of teams and divisions – an exhausting task.
From that single initial sale, Tableau expanded its footprint inside each customer's company, and it didn't take long for it to become a disruptor to the Goliaths.
Power BI's Ascent to Prominence
Microsoft took a different approach.  First, Microsoft targeted data analysts who were most comfortable using its Excel spreadsheets. Second, Microsoft incorporated smart analytics into its strategy.  In the early 2000s, Excel was the No. 1 data visualization, data discovery and data analysis software program in the world so it was a no brainer for Microsoft to target those users. Between 2006-2012, Microsoft sold add-on software that allowed analysts to give a different look and feel when presenting data visualization.
Simultaneously, Microsoft was pouring millions of dollars into its own standalone product and unleashed Power BI in 2013 to go head-to-head with Tableau. The Power BI black box offering included Microsoft Excel add-ins, SQL Server Report Builder components, Machine Learning and Artificial Intelligence. The first release of the tools fell far short of competing with Tableau, and thus was ignored by the King of the Hill.
From inception Power BI was presented the perception that it was the more cost-effective data analysis and visualization tool. That perception has caught on, and the majority of customers I've spoken with believe Power BI is cheaper than Tableau. Microsoft has done a masterful job masking the overall cost of its Power BI platform, especially for on-premise deployments. Perception can trump reality.
Microsoft Power BI: Agility is Strength
Power BI is a de facto option for companies with Microsoft platforms like Office 365, Azure, Microsoft Excel and that have Enterprise SQL Server agreements for reporting. According to Gartner's Magic Quadrant respondents, the platform is easy to use and has a free option, as well as an attractive entry point for the Power BI Pro version. However, this version requires that data be stored on Microsoft Power BI servers in the cloud. Many large companies and enterprises are reluctant to store data in the cloud, so the only viable option for prospective Power BI customers is the more expensive one.
"Microsoft's customer reference scores place it in the top quartile for ease of use, with 14% of customers citing this as the main buying criterion," according to the February Magic Quadrant comparison. The report states that "BI's reference scores also place it in the top quartile for visual appeal. Winning customers within the first few minutes has been part of Microsoft's 'five by five' strategy — five seconds to sign up and five minutes to 'wow' the customer."
And it does all of that and more.
Power BI's automated analytics, charting, custom visual platform and pre-built dashboard templates for products such as Google Analytics and Salesforce give it an interesting market position when placed next to Tableau, the current King of the Hill. However, Power BI's highly technical nature of the data models is a barrier to entry for data analysts unfamiliar with complex data modeling concepts.
Tableau: Ease of Use and Self-Service Analytics is Great, But . . .
Tableau also comes in three versions – free, low-cost cloud-based and enterprise premium, allowing users to see and understand their data. Tableau specializes in the art of muting the complexity of the software and intelligently guiding the user's attention to what's most important, the data visualization, Tableau is ideal for the non-technical data analysts that need to create interactive data visualizations. The free version is a fully functional version of Tableau Desktop with data volume and data connectivity limitations.
With nearly a quarter century of business intelligence and programming experience, what I have witnessed and hear is that data analysts love Tableau.
Tableau earns impressive customer reference scores, with 94 percent of them scoring the platform as "excellent," according to the Magic Quadrant report, and 55 percent "using it to empower centralized teams to provision content for consumers in an agile and iterative manner." Additionally, 64 percent use it to enable decentralized analysis by business users, according to Gartner.
Tableau really invested heavily in integrations and connections to a wide variety of data sources. Its strong ability to obfuscate the complexity of data modeling and data integration remains one of its top selling points.
With its solid customer scores and a continued focus on reducing the user's time to insight, no question that Tableau is currently King of the Hill, but Power BI's "five by five" strategy has this offering making its way to the pinnacle of the hill.
The Power BI Cost Perception
When Tableau brought on Adam Selipsky as its CEO in 2016, the former Amazon web services executive changed the pricing model to a subscription-based model. The pricing conversion reduced the entry price point, which made Tableau a plausible option for companies where high initial costs were a barrier.
Being the motivated consultant that I am, I use and help clients achieve their objectives with both platforms. They are equally impressive and deserve to be the top two leaders in the Gartner Magic Quadrant for Analytics and Business Intelligence. No other platform is even close.
Now let's look at the perception surrounding cost.
In the following graphic, I've presented a side-by-side on-premise deployment cost comparison of the two platforms for 50 users (10 content creators and 40 content consumers).  Please make note of the assumptions following the graphic.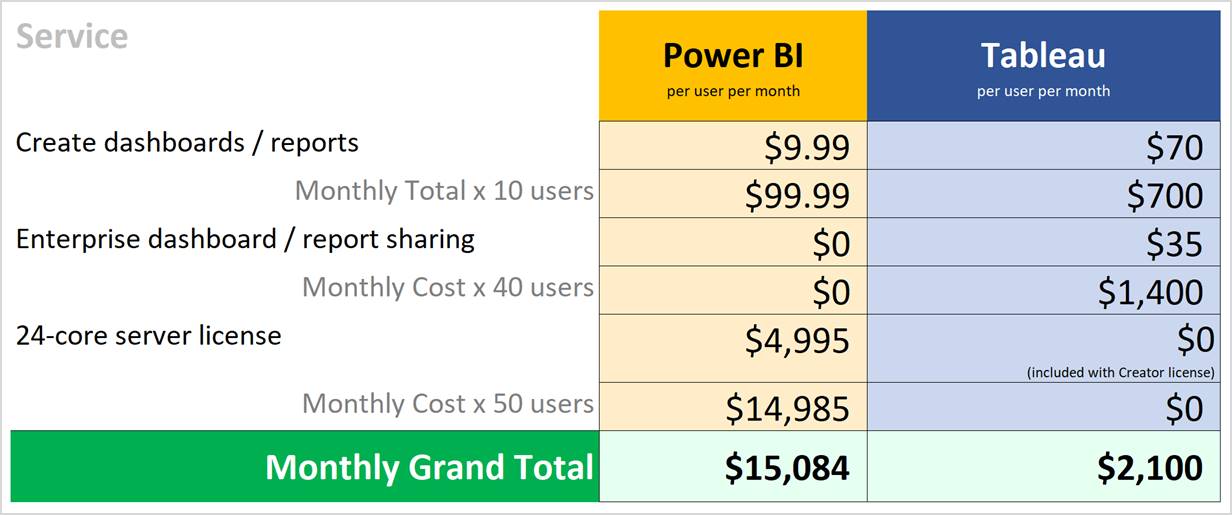 ASSUMPTIONS:
1 Labor costs not included (consulting, solution architects, etc…)
2 On-premise server deployment is a customer requirement
3 For high availability and redundancy, the customer has requested a 3-server cluster
4 No vendor discounts have been applied
5 Subscription pricing (not enterprise agreements) is preferred by the customer
6 Customer requirements do not include embedding needs
7 Server hardware and operating system licensing costs not included
When you crunch the numbers, Power BI is clearly the more expensive option for an on-premise deployment.  Not to mention the fact that the cost grid does not include the cost of the SQL Server cluster necessary for an on-premise highly available Power BI Server deployment. I encourage prospective data visualization customers to also take a look at the TrustMap on TrustRadius; written by platform end users.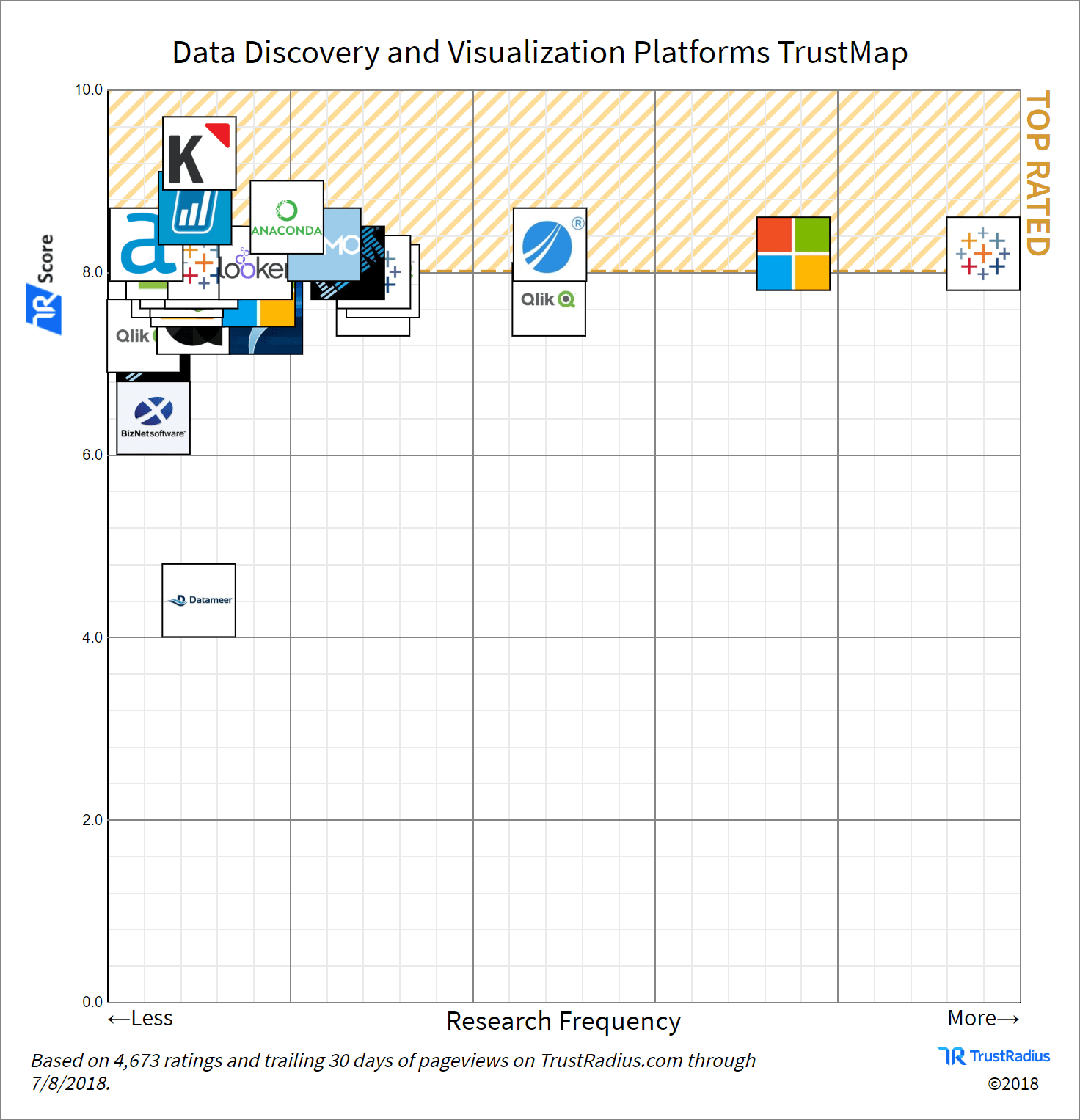 Tableau Making Moves to Stay Ahead
Smart Analytics is the incorporation of Machine Learning and Artificial Intelligence into platforms to automate data prep, data analysis, data visualization and data driven decisions.
As King of the Hill, Tableau has established itself as the self-service analytics disruptor to every incumbent Business Intelligence vendor.  However, Smart Analytics is the disruptive force on the horizon.  The vendor that successfully delivers Smart Analytics will ultimately emerge as King of the Hill.
On the playground, retaining King of the Hill status demanded vigilance and a healthy dose of speculation.  Vigilance because one slip could end a reign.  Speculation because identifying formidable contenders from mere wannabees doesn't always yield expected results.
Tableau finds itself at this exact point of decision.
As a consultant on the ground with a wide variety of clients, I believe Power BI is that formidable contender.  With a clear edge in ML & AI analytic capabilities, Power BI clearly has its sights on the throne; and Tableau is playing catch-up.
Tableau needs to do three things well.
Flawlessly and quickly integrate ML & AI analytic capabilities into its platform with the August 2017 acquisition of ClearGraph and the August 2018 acquisition of MIT startup Empirical Systems. Also keep a close eye on ThoughtSpot.
Arm every Sales resource with an ironclad total cost of ownership narrative making it crystal clear that Tableau ultimately is cheaper than Power BI.
Don't slip, trip or falter while executing on the existing Tableau product roadmap.
Power BI is a good example of how marketing impacts perception, and how that perception can create a window of time long enough to reshape reality. I believe Tableau clearly trumps Power BI when it comes to those telling stories with data
For now, Tableau continues to reign as King of the Hill; but for how long?
Want to share your thoughts, great.  Share them below.  Please keep comments clean.
FREE 45 min. Consultation
Resources
More